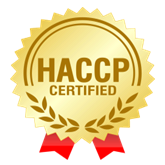 News
The company is actively working on inculcation of HACCP (Hazard Analysis and Critical Control Points) system which would fairly contribute to the improvement of the working process and make the relations go easier with partner companies and prospective customers. By using the HACCP we will apply a preventive system and ensure the safety of the product for about 100%. By controlling major food risks, such as microbiological, chemical and physical contaminants, the company can assure customers that its products are as safe as required by standards. By reducing these hazards, public health protection will be strengthened. In order to get HACCP certificate a plan was formed and basic goals were set. This is our first step towards total quality.
Cold storage warehouse
Using modern technologies, high-quality materials, and based on the experience of world markets leaders, we have put in operation cold storage warehouse with different temperature modes for different purposes. There are four cold storage rooms at your disposal. The area of each room is 150 square meter. This is a cold storage warehouse facility that provides guaranteed high quality storage of your products.
The price is determined on the basis of:
1) Weight
2) Volume
Price per square meter is -
36 $
Price per square meter is -
19 $
• Rates are VAT included
• In addition to the storage we also offer loading-unloading services at the price of
7$
/ton =